Holidays in France
Or still better- in the south of france - in the Provence!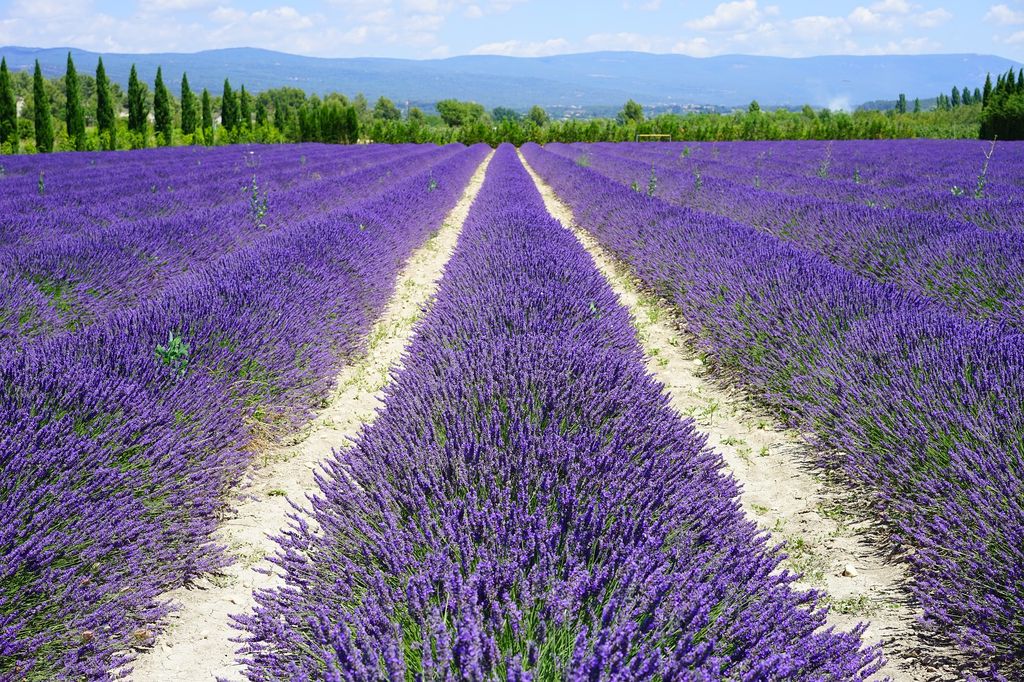 Lavender fields in the Provence
The best will be Provence & Côte d'Azur?


Some arguments for your next vacation planning from a german who lives in france
Holidays in France:
Why the most french make holidays in her own country ?
Simple: In france you will find everything you need for your every kind of holiday.
If you will go for holidays in france, you will have a good chance to see a lot of water beause south, west and north have coastlines.
In the west, the Atlantic coast for nature lovers, water sport enthusiasts and people who don't like the high summer temperatures which you can find in the south of France.
In the south, on the French Côte d'Azur you will find between April and October comfortable water and air temperatures.
You also find a lot of lakes and rivers where you can swim, relax and be very close to nature
Whether sandy beach on the atlantic coast or rocky bays and calanques in the south on the
        3/ Mountains
Pyrenäen, Alps, with the highest mountain of Europe the Mont Blanc you also can find in france. Sommer and Winter, you can always find a spot to go to ski.
Unique, typical french landscapes in the provence, camargue or in natural reserves like the gorge du verdon area. It's also called the french grand canyon.

Holidays in France? There is Paris, of course.
I don't have to explain. It's THE european city to visit. Everybody should have visited paris once in his lifetime. But there are so many other beautiful, typique villages especially in the Provence and south of france like, Annecy, Aix-en Provence, St Tropez, St Remy de Provence. All authentique with a lot of charme.
- Ad-

Paris Sightseeing

Want to benefit from fast and easy skip-the-line entrance at Louvre?
Climb the 704 stairs to the second floor of the Eiffel Tower with a professional and knowledgeable guide and skip the line with Priority Access?
Enjoy an à-la-carte dinner on board a panoramic pleasure boat on a cruise through Paris.
Say goodbye to stress and Browse and book with our partner getyourguide. They will tell you when to be where. You can just focus on having a great time.
Get personalized recommendations before and during your trip to experience all your destination has to offer. Book with the no. ONE in France.

GetYourGuide offers 24/7 customer support in English, German, Spanish, French and Italian.
What you will not find if you make holidays in france...
Ok, there are no desserts and no jungle.
But a kind of jungle feeling you can find on spots like Sillans la Cascade (In the green Provence). This place is just crazy with his waterfalls and all the green around.
And yes, you are never alone. France is touristically very developed and especially in the main holidays july and august really crowdy
So, the decision is made. Holidays in France. Somebody was talking about Provence and South of France….
But why should I go in the French Provence?
What comes to mind when you think about Provence Holidays

Fields of lavender stretching across the horizon as far as the eye can see.
Provincial kitchen? The french flair with the typical "savoir-vivre" and the pleasant "laissez faire"?
Yes, all that. But holidays in France and in the french provence are much more.
For me, the south of france, especially the provence is the most beautiful, warmest et most enjoyable region in france.
Between the french alps and the french riviera you can find all for unforgettable holidays.
In the romantic and dreamy french provence.
Untouched nature, typical small Provencal villages all with their preserved charm and the world-famous provincial kitchen with his absolutely superb freshly caught fish, olives, fresh fruit and vegetables, scented herbs and wines.
Provence Holidays with almost guaranteed good weather from April to october on the south of france
"The ideal weather conditions are the main reason for me to make holidays in the south of france, especially the area on the Côte d'Azur. That's why the french riviera is one of the top spots in Europe."
- Ad-

Provence Sightseeing

Explore the glamour of the French Riviera

Board a maxi-catamaran in Marseille and set sail on an unforgettable cruise along the creeks

Spend a day touring the most interesting parts of Provence
Say goodbye to stress and Browse and book with our partner getyourguide. They will tell you when to be where. You can just focus on having a great time.
Get personalized recommendations before and during your trip to experience all your destination has to offer. Book with the no. ONE in France.

GetYourGuide offers 24/7 customer support in English, German, Spanish, French and Italian.
In the near coast, up to 50 km from the sea, you can even find a kind of micro-clime. Rain is seldom and temperatures are always pleasant.
How, where and how long…

You have to plan your holidays in France and especially in the provence very well!
You will have a lot of questions if you plan a trip in the south of france. Like, "what are the must see", "which region" , "when is the best travel period" and so an. I will give an answer on all those questions in one of my next articles, because there is so many ways to discover the french provence:
To cruise 3 weeks actively with a caravan through
Beach vacation with a lot of culture
Chill out time in the green Provence
A rain free motor bike tour through winding roads
City break in Nice with bathing seasons in the french riviera from april to october
Sport vacation with Cycling, riding, running, hiking, golf, swimming, flying kites, surfing or sailing. Also possible: go to ski in the morning and bathing in the Mediterranean sea in the afternoon*
Oh, yes, I forgot to mention:
For me as a typical german, the french "laissez-faire" mentality is always surprising me. It was the first thing which "shocked" me at my first holidays in france.

In the beginning it is a little bit annoying but when you are used to – just wonderful.
You know, things like, parking your car wherever you want in front of your bakery to buy you baguette. For appointments you can be sure that everybody is easily and fluffy 15-60 minutes to late. That bothered nobody because everybody is doing it. But for a german, with german virtues it is very hard and the french are on the greater leverage ;)
And the world famous "savoir-vivre". The french lifestyle.
At lunchtime you do not just eat to fill up your stomach. Non. You take your time with starter, main course and dessert. That could take several hours…
And when at 6pm you are getting hungry at you are invited by a french, then you will enjoy the typical french aperitif (apéro) for about two hours with tapenade, olives…..
And when you not hungry anymore at 20h30, the french is working to full capacity and giving the best for the culinary peak.
But it is all this "savoir-vivre" for what we are looking for in our vacation in france. Isn't it?
VIVE LA FRANCE !
*Yes, it is possible. In the Alpes Maritimes, in just 1,5 hours distance to Nice and the the french riviera you can go to ski at  "Gréolieres-les-Neiges" for example.
My Websiteproject is originally in german, because I am german and live since 15years in france and give some advices, tipps and tricks to german tourists on my website. So, there are no other pages at the moment in english. Anyone who intends now to come the france (or better south of france) - don't hesitate if you have a question. What I really can recommand you, are the get your guide tours, which you can see as an ad in the texte above. I did of theis tours myself, and they are quite good. Local guides, not so expensive and the booking procedure very easy. Juste have look;)
Patrick

---
---
-Anzeige-

Die Provence und Frankreich mit einer Rundreise entdecken!

Highlights:

Verdonschlucht,
Mont Ventoux,
Camargue
Orte:
Saint-Remy-de-Provence,
Les-Baux-de-Provence,
Avignon

Ihre Vorteile beim Buchen mit unserem langjährigen Partner journaway:

Die größte Auswahl: Über 12.000 Rundreisen von über 120 Veranstaltern vergleichen.
Sichere Buchung:  Sie zahlen immer direkt an den Reiseveranstalter.
Nirgendwo-Günstiger-Garantie: Buchen Sie immer zum besten Preis.
Ohne Risiko: Sie erhalten vorab immer ein unverbindliches Reiseangebot.
---
---
---
---
---